We interpret the Living Hall as the epitome of a scintillating lifestyle and high hospitality.
The space where life is experienced as enjoyment and art.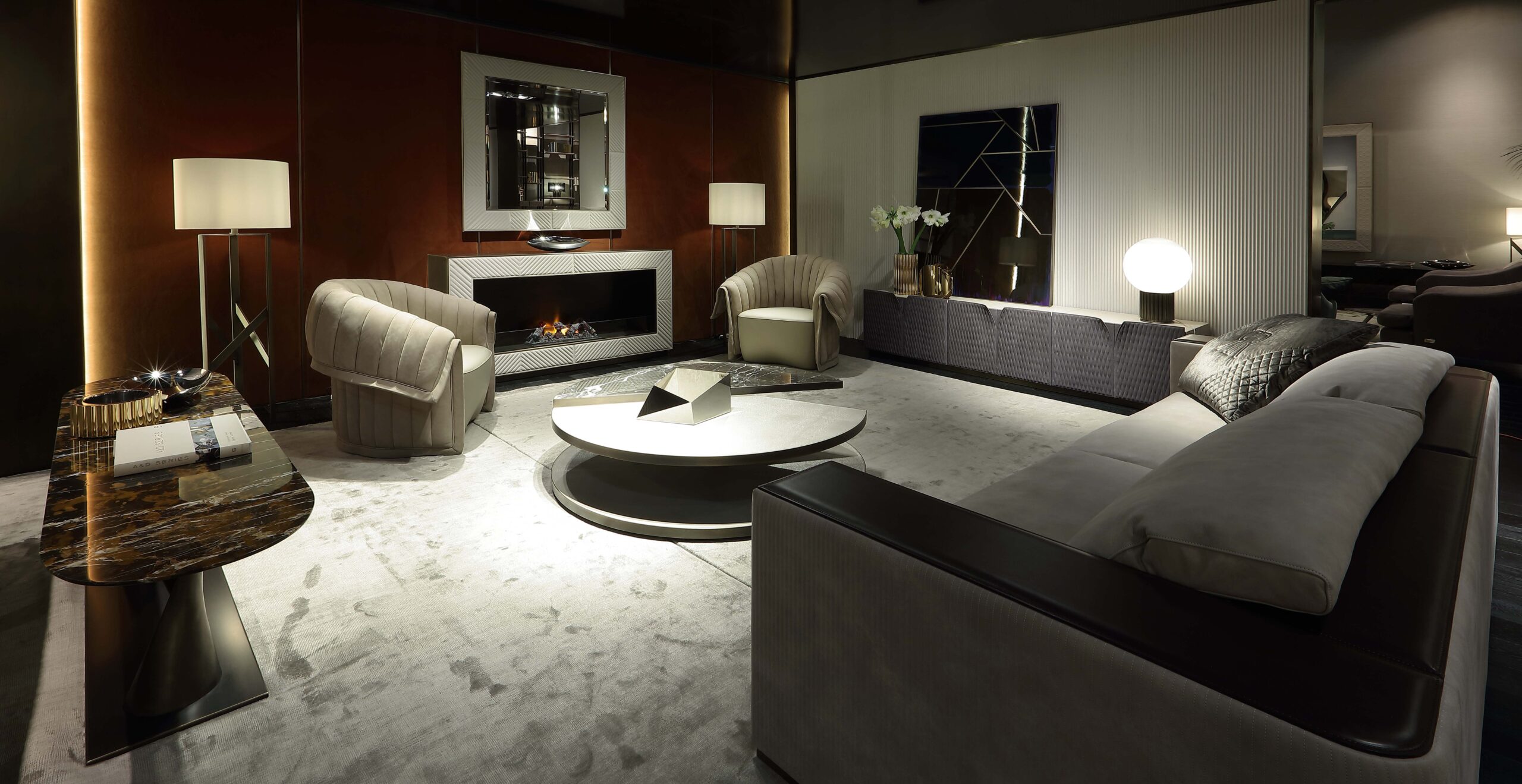 Sofa: range of modular upholstered furniture with saddle leather or nubuck detail. Structure available plain or with "baguette" stitching.
Armchair: collection of completely upholstered furniture characterised by a soft and sinuous backrest, enriched by stitching, that creates and extremely comfortable and welcoming seat.
Sideboard Range. Structure in chrome or upholstered in leather. Upholstered doors available with or withour ONDA stitching, with corner handle detail for door-opening.
Coffee table: round shape and half-round tops with bronze profiles, available with marble and leather or marble and ebony combination.
Console composed by two sculpturesque bronze fusion elements as a base and an oblong oval top, available in wood and marble, hand-painted or upholstered in leather.
Fireplace and TV / Media mirror. Detail in bronze or chrome. Upholstered frame with stitching.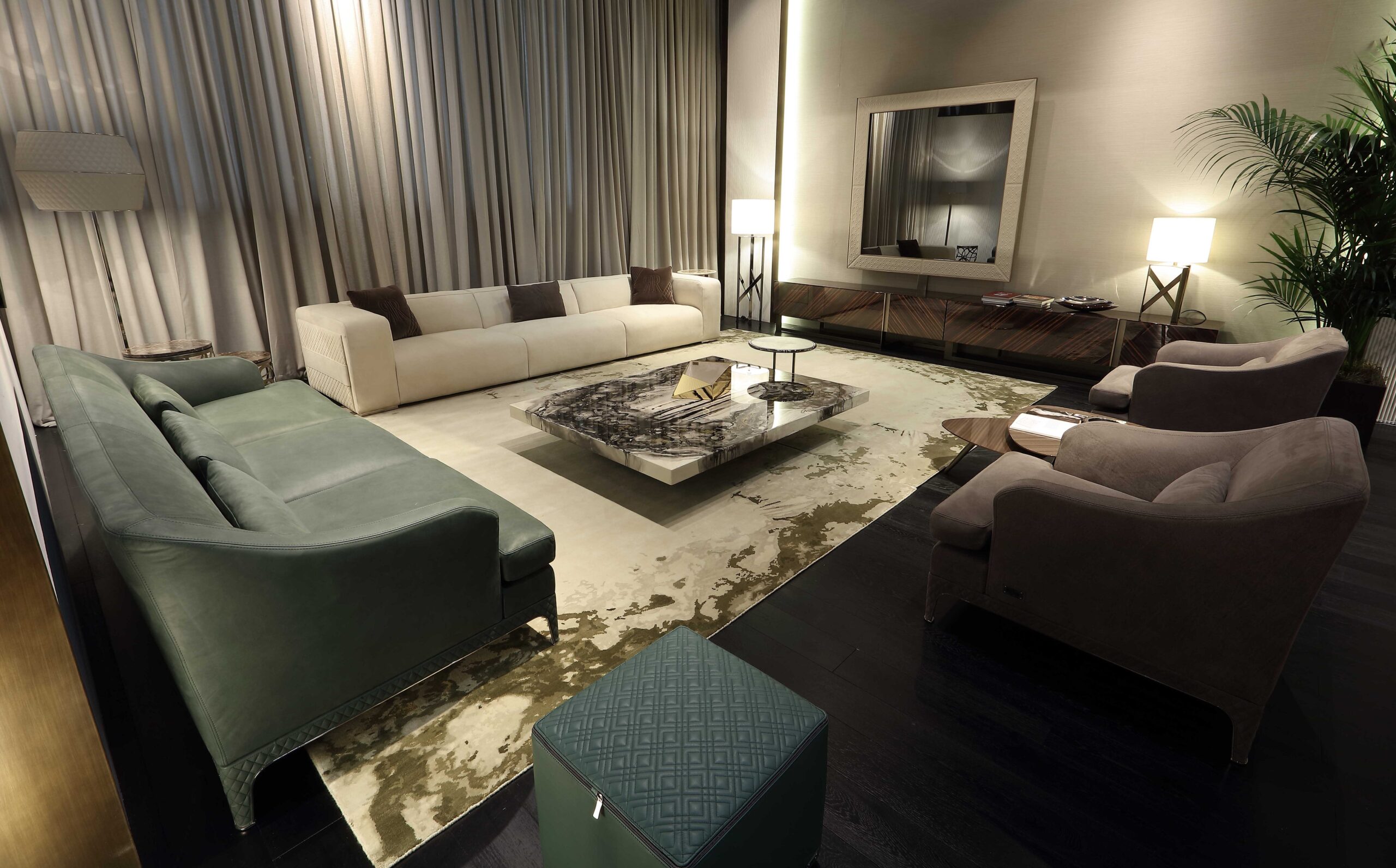 Ivory sofa: a range of modular sofas and armchairs. Characterised by the "Baguette" stitching on the outer sides and outer backrest. Modules includes middle side table.
Range of coffee table featuring an entirely hand-painted top by expert craftsmen. Available in a range of dimensions.
TV cabinet. Base finishes in bronze, chrome or black chrome. Structure in ebony or upholstered in leather. Doors in ebony, upholstered in leather, or hand-painted.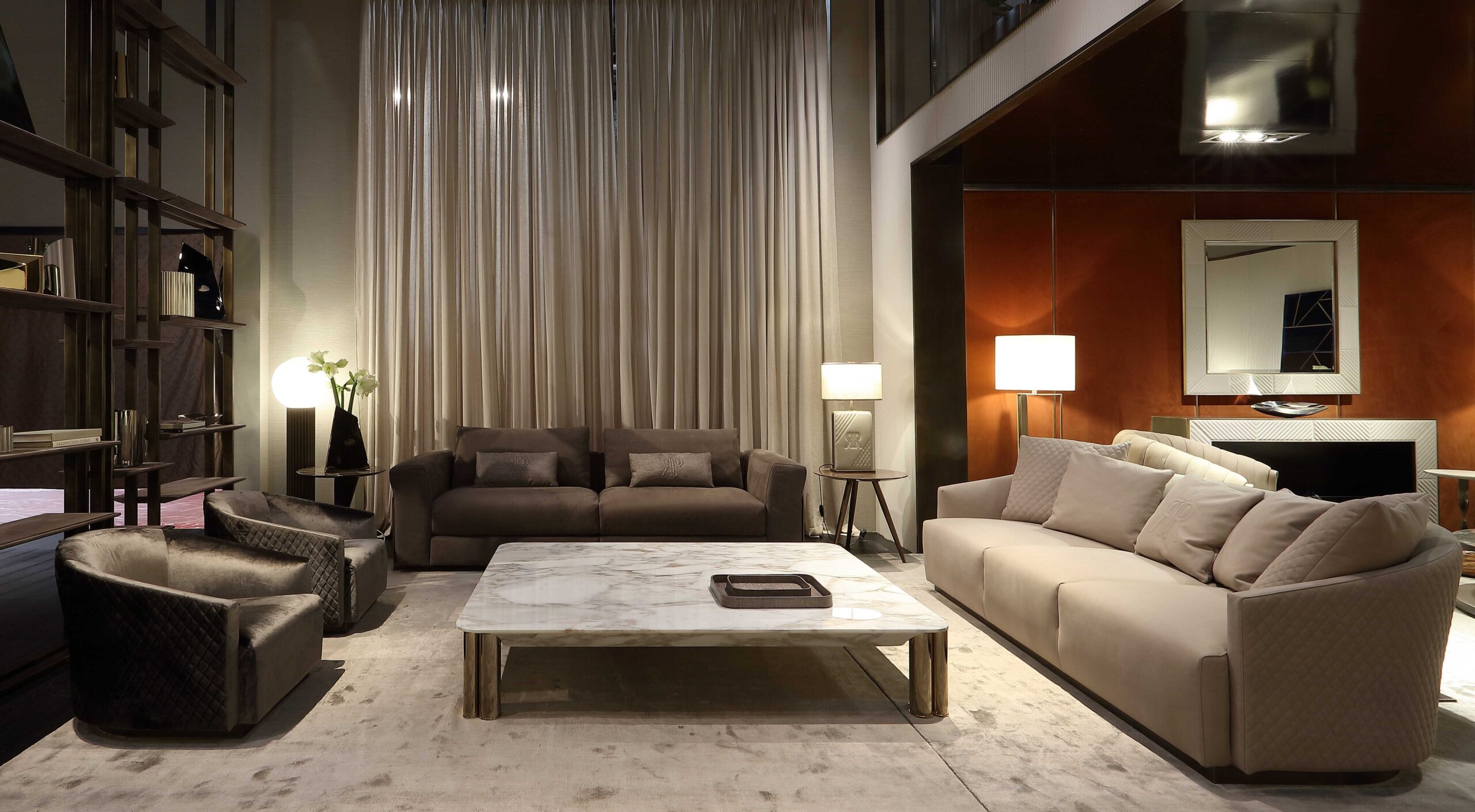 Brown sofa: range of modular upholstered furniture with inlaid leather detailing on the armrests. Structure available in bronze or black chrome.
Upholstered armchair and sofa featuring round and soft edges. Outer surface available plain or with matelassé pattern.
Coffee table: gloss gold or black chromed legs composed by skilfully welded tubes. The top is available in a variety of dimensions and can be decorated, made out of wood, marble or upholstered in leather.
Self-standing bookshelves with bronze or dark chrome varnished structure, available in different configurations. Shelves available in leather or marble. Box upholstered in leather and available with or without stitching and with front only or back and front opening.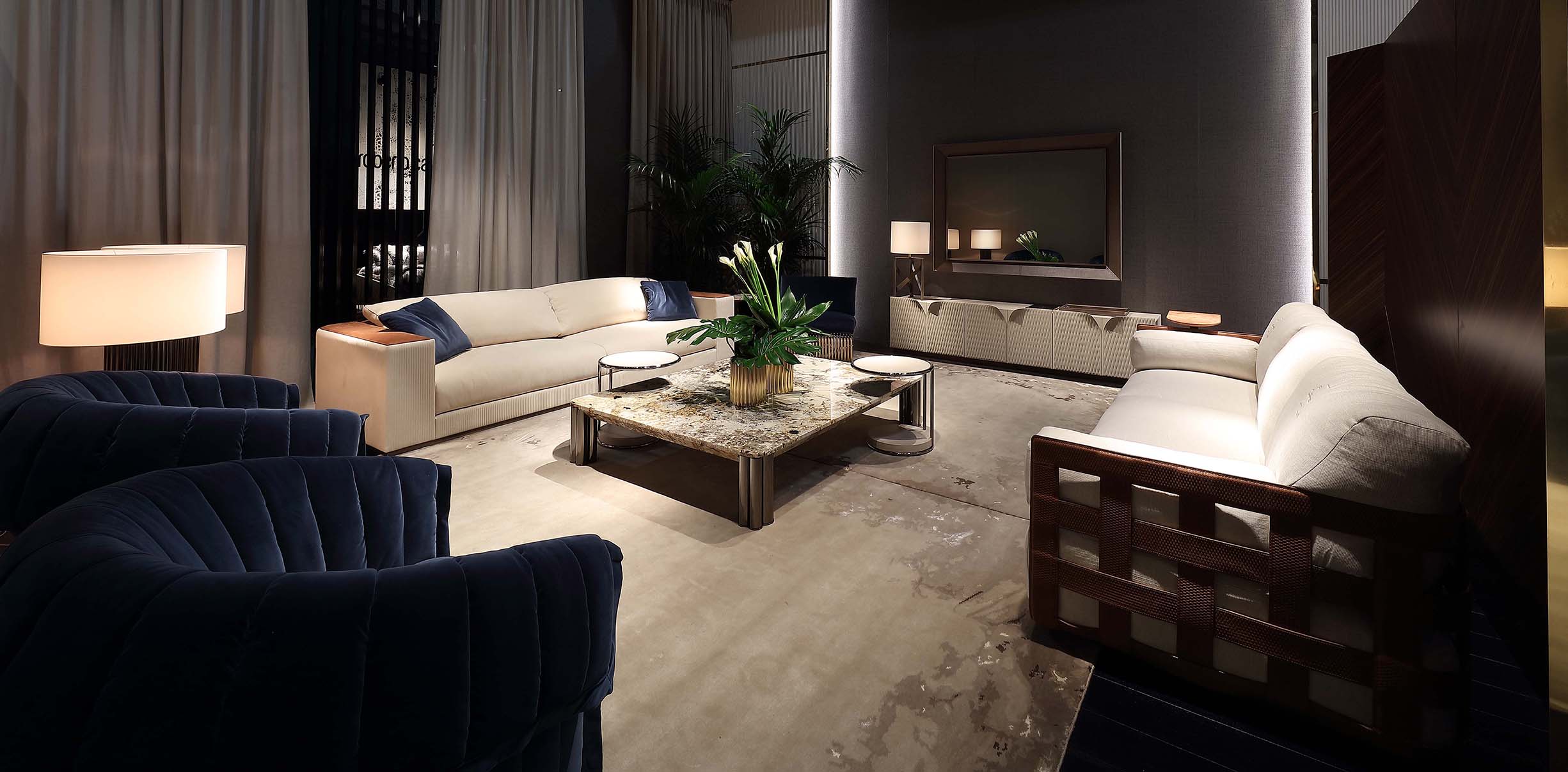 An extremely comfortable model range characterised by an upholstered braided structure. A "nest" that displays craftsmanship skills.
Side tables for armchairs and sofas. Versatile and adaptable to a broad spectrum of interiors, they are available with a bronze or chromed steel structure, with top in wood, marble, hand-painted or upholstered in leather.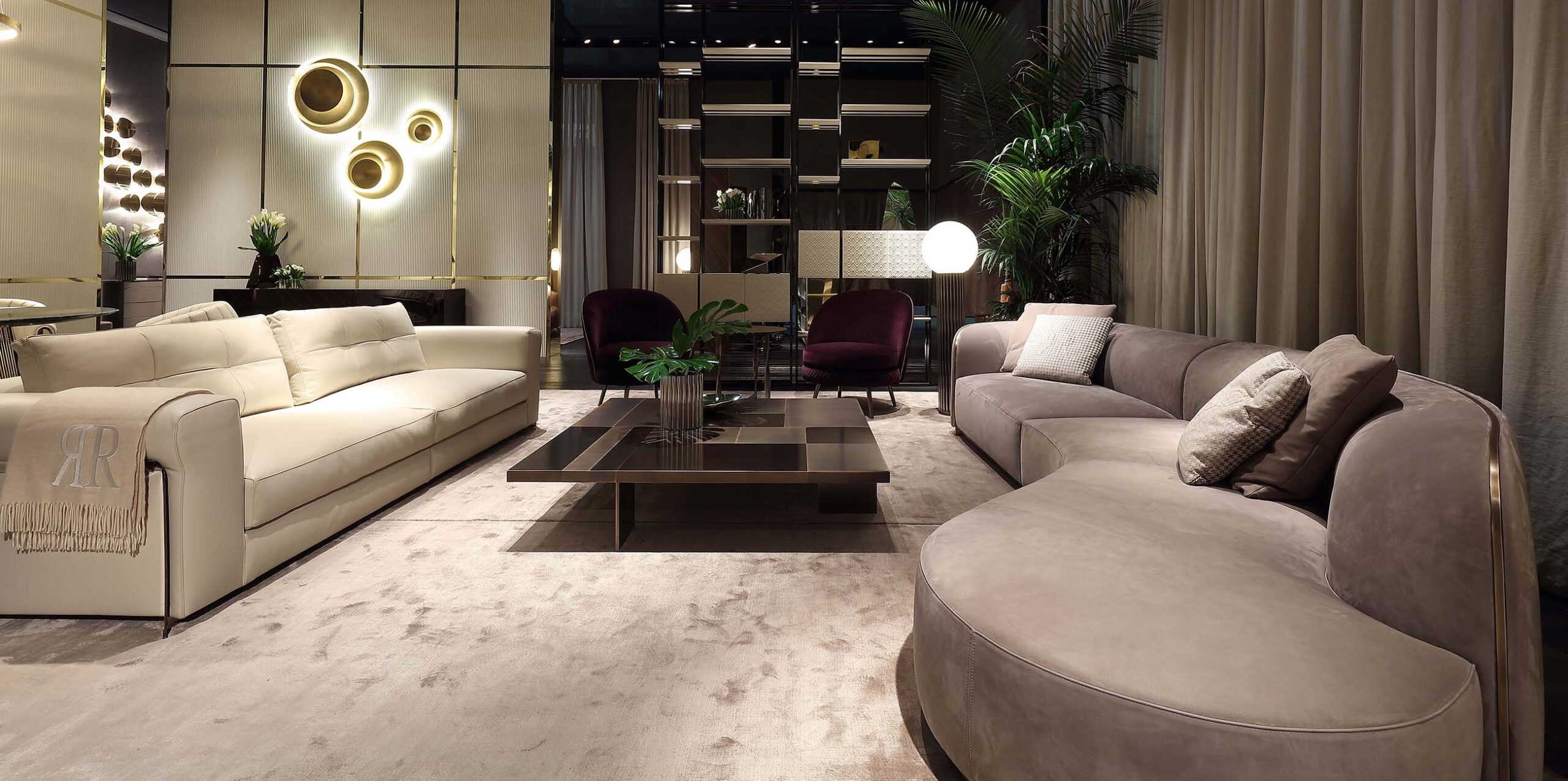 Range of modular sofas with curved end-modules and corner-modules to create unique and sinuous compositions. Seat available with linear stitching.
Upholstered armchair. Outer surface available plain or with patterned stitching. Metal feet.
Range of coffee tables with hand-brushed bronze metal top. The different directions of the panels create geometrical and light contrasting effects.